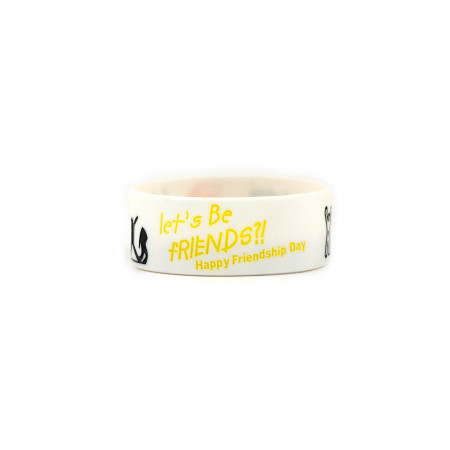 New
Stock:

In Stock

Model:

12R-W
Friendship day wrist band (White colour)
Description
12 R – W
Friendship day wrist band (White colour)
This Latest Friendship band is classy Friendship Band. It is made up of excellent quality with superior finish. This band looks elegant when one wears it and they also feel good as others notice the band and relates you with Message written on the Band.
A friendship band is given as a sign of friendship and that's what its written here. It is intended to be tied on the wrist of a friend and worn continually as a symbol of having a lasting friendship. The band is white with colour filled debossed that reads happy friendship day and let's be friends!
Material:
There are many bracelets that are produced well with other synthetic rubber materials; however, the majority of decorative wristbands are made up of some sort of specific rubber material. This rubber material is a bonded polymer substance with numerous elastomeric qualities that shall further make this band flexible and completely water-resistant.
Features:
Debossed with color filled
Hi-Quality Rubber
Flexible and Lightweight
Easily Fits
Stylish and Good-Looking Design